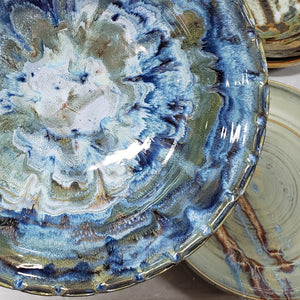 FRIDAY, OCTOBER 20, 7 - 8 pm
This hour long workshop is an extension of basic brush glazing techniques covered in our studio wheelthrowing classes and will also help take the skills and ideas of community and hobby potters to the next level. This class content focuses on how to use common commercial glazes in ways to get more consistent, interesting results.  
Meghan covers how glazes are made, the chemical breakdown needed for stability, why glazes are stable vs flowy, and will help with some basic Q/A and trouble-shooting.  As examples for the flowy-technique, Meghan will explain how she gets the results in her personal work utilizing the attributes of the commercial colors chosen.  
If time allows at the end, how to use many commercial dipping glazes will also be covered, along with the issues that can happen with those vs brush glaze.  

**This is a classroom-based workshop with handouts and opportunities for notes.  There will be demonstrations, but you will not be making/glazing any personal work as a part of this