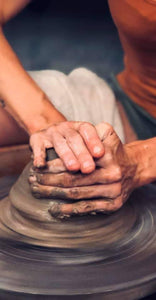 SATURDAY, SEPTEMBER 30:  1:30 - 3:30 pm
This two hour workshop with Meghan Conatser is for the experienced potter who just needs an extra boost in a skill or two.  From centering help to making larger forms, Meghan can help take the skills you might be struggling with and get you to the next step along the way.  
Wheelthrowing topics such as centering, raising, taller forms, bowls, plates/platters, lids, trimming, etc can all be covered through this session.  
_______________________________________
TOOLS AND CLAY:  Tools and other throwing supplies (bats, towels, etc) will be provided by the studio for this event.  
**For Hedgerow Pottery Members/Students:  Your own clay will be needed for this workshop, and your pieces can be fired/processed after per usual studio policy. 
**For Non-Hedgerow Members:  Welcome!!!  You may use our studio clay, but your work will be reclaimed after.  If you bring your own clay so you can keep anything you make, you are responsible for transport of your pieces back to your home studio.  
____________________________________
**No refunds or transfers available for this event.  Please purchase wisely.